» Latest Posts
The Biden Administration
17 Replies, 457 Views
More cute (overload!)
4,113 Replies, 837,934 Views
Return to Gender 101
6,607 Replies, 1,055,120 Views
Winnie the Flu
1,905 Replies, 182,792 Views
Good King Trump
Last post by
JoeP
4,860 Replies, 703,705 Views
Countdown from one million...
Last post by
Crumb
175,434 Replies, 17,544,184 Views
Welcome to the Freethought Forum
The lofty high Renaissance and marked mannerism. The heavy and ornate Baroque era, followed by the gentle Rococo. Harsh neo-classicism, rich romanticism, lush naturalism, stern realism, blurred impressionism. Heady surrealism, blockish cubism, postwar Dada, pointy-cornered art deco and cookie cutter Bauhaus. Let us skip the dreariness of the past half century and arrive finally at
FF Style
.
» FF News Feed
The Biden Administration
Jan 22, 2021 - 6:00 PM - by Stephen Maturin
Now that we're back on the path of sanity with respect to the Paris Agreement and the Diet Coke button is gone, let's talk federal judges.

Thanks to a friendly Senate, Diaper Don appointed and had confirmed an astonishing 231 Article III judges in a single fucking term, including 1/3 of the Supreme Court and 54 court of appeals judges. Now it's Unca Joe's turn.

There are only two U.S. Court of Appeals and 44 federal district court vacancies at the moment. However, there are 38 court of appeals judges appointed by Democrats who are eligible for senior status. It's a pretty sweet deal. Once an Article III judge reaches the required age and years of service, s/he can continue to receive full salary while getting to kick back, do less work, and pick and choose cases. A buddy of mine clerked for a senior federal district court judge right out of law school. The judge had been on the bench forever, and really came to loathe criminal cases. When he hit the magic numbers for age and years of service, he took senior status and continued to maintain a full docket, but never had do deal with another criminal case.

Senior status is also a sweet deal for POTUS, as it creates a vacancy to fill. Here's hoping all 38 of the above-mentioned court of appeals judges were just waiting for Biden's inauguration. May they all follow the example of this district court judge, who sent this letter to Biden about 1.5 hours after he took the oath: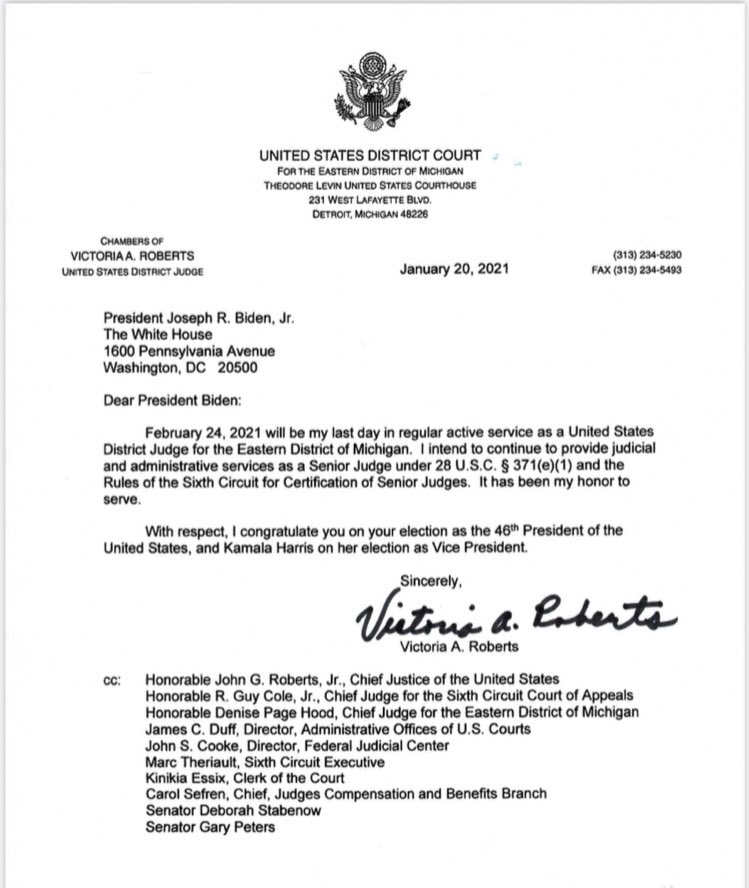 17 Replies | 457 Views
So, What Do You Think?
Jan 20, 2021 - 3:40 AM - by The Lone Ranger
Part of me thinks that Trump is just stupid enough to actually believe there's going to be some kind of uprising in the next few hours' time, and that he will [somehow] still be President on January 21

st

.


I think it's more likely that he'll just skip the country within the next few hours' time, though. Or at least, try to skip the country.

Regardless, I expect that he and his staff are frantically destroying documents right now.


Personally, my hope is that, 24 hours from now, he will be in prison. Where he belongs.
30 Replies | 790 Views
» Stats
Members: 137,598
Threads: 29,290
Posts: 1,351,284
Top Poster: Crumb (60,250)

Welcome to our newest member, gretchenxh4