Pansies, Snap Dragons & Violas.. Oh My! :0
---
Last Friday, on my day off, I took my time picking out flowers for two planters; one for my mother-in-law's grave site for Mother's Day and one for my back porch railing. Before going, I researched which flowers did well in New England Spring weather which can be too cool for some plants. So, after I did that, off I went to the garden center with my list of acceptable flowering plants for the season.
This is what I came home with: Snap Dragons, Violas & Pansies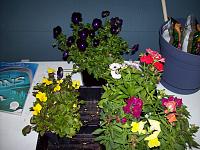 For the planters, I bought decent planter soil & a bag of perlite, along with sheet moss for the tops of the planters to help keep in the moisture with the added benefit of being aesthetically pleasing.
It turned out that I had purchased more flowers than could fit in the two intended planters, so I ended up utilizing a hanging planter that I had on hand for the rest.
This was the end result:
All of the above are still doing very well... even if a squirrel
did
try to dig up one of my snap-dragons.

Views
4075
Comments
0

Comments