Gliderport
Posted 03-29-2008 at 03:19 AM by
Crumb
---
Tomorrow I will be going out to the "gliderport" to assist with glider assembly. The cool thing is the gliderport is only 15 minutes away.
So getting there is not a big deal. Here is a google maps satellite pic of the gliderport: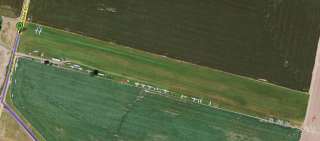 (click for larger image)
You can see the gliders parked mostly along the southern edge.
and if you look at the right edge you can see a flying glider that looks like it is coming in for a landing! I guess a good day for satellite photos is also a good day for flying.
Tomorrow will be the first time I go there and meet my prospective instructors. Next Saturday will be the safety session and probably when I will schedule my first lesson. It is possible I could arrange something that Sunday, which may be the first flying day.
Comments
Posted 04-02-2008 at 01:28 AM by

Crumb