Random recipes, ranting, and other various things that begin with "r".
The joys of TVP
---
..or textured vegetable protein, if you're not up on your acronyms. Tonight I'm making Meatless Meat Loaf. Here's the recipe:
I substituted bread flour for the gluten flour, real garlic for the garlic powder, and used Worcestershire sauce instead of steak sauce. I also added one of mom's hot peppers (I have no idea what kind, but my skin's still burning from cutting the pepper up). I gave a small taste...boy is that bastard hot! It' in the oven now, along with some garlic roasted potatoes. T minus 40 minutes till I see just how much I like this recipe.
Edit: It turned out really well! It had just the right level of spiciness with the pepper, and the potatoes helped offset it a bit. It was only slightly grainy-tasting, as that's one of the things about TVP-there will always be a slight cereal taste to it.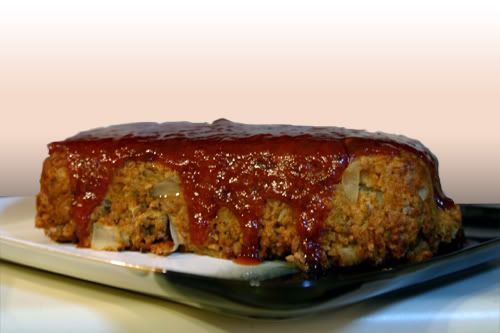 The meatloaf of greatness.
Comments