Last Week's Track: #3 - La Villa Strangiato
---
Rush - La Villa Strangiato
This is the fourth (and last) track from
Hemispheres
, the sixth studio album released by the Canadian rock power-trio Rush, consisting of Alex Lifeson (guitars), Geddy Lee (bass) and Neil Peart (drums and percussion).
According to articles at wikipedia.org:
"La Villa Strangiato" is an instrumental, exhibiting the musicianship of the band as a whole, as well as each member individually. One particularly humorous guitar riff in the song may pick at the listener's memory, though its origin may prove elusive for many people. It is in fact based upon a song composed by Raymond Scott in 1936, entitled Powerhouse. This song has been used extensively in various cartoons since the 1940s, no doubt where guitarist Alex Lifeson picked it up from...

This was Rush's first entirely instrumental piece. It clocks in at almost ten minutes long. The instrumental's subtitle is "An exercise in Self-Indulgence". The multi-part song was inspired by a dream guitarist Alex Lifeson had, and the music in these sections correspond to the occurrences in his dream. The opening segment was played with a plectrum on a nylon-string classical guitar, while the live versions were played on an electric guitar. This segment is basically a Spanish-flavored scale based on E Phrygian. The next segment introduces the main theme of La Villa, the Strangiato theme. The song progresses to include an increasingly complex guitar solo backed by string synthesizer, followed closely by bass and drum fills. The Strangiato theme is then revisited before the song ends abruptly with phased bass and drums. The song is divided as follows:
La Villa Strangiato (An Exercise in Self-Indulgence)" – 9:34 ( – Start Time)

* I: "Buenos Nochas, Mein Froinds!" – 0:00
* II: "To sleep, perchance to dream. .." – 0:27
* III: "Strangiato theme" – 2:00
* IV: "A Lerxst in Wonderland" – 3:16 ("Lerxst" is the nickname of guitarist Lifeson)
* V: "Monsters!" – 5:49
* VI: "The Ghost of the Aragon" – 6:10
* VII: "Danforth and Pape" – 6:45 (This refers to an intersection in the band's home town of Toronto)
* VIII: "The Waltz of the Shreves" – 7:26
* IX: "Never turn your back on a Monster!" – 7:52
* X: "Monsters! (Reprise)" – 8:03
* XI: "Strangiato theme (Reprise)" – 8:17
* XII: "A Farewell to Things" – 9:20

"Monsters" contains segments of the song "Powerhouse" by Raymond Scott.

Live versions of "La Villa Strangiato" have often featured certain additions—for instance, in Exit...Stage Left, Geddy Lee sings nursery rhyme lyrics in one portion of the song, while on recent tours, as documented on Rush in Rio, a pause is inserted in the song for Alex Lifeson to make a stream-of-consciousness rant.

According to Geddy Lee, "We spent more time recording 'Strangiato' than the entire Fly By Night album. It's recorded in one take but it took 40 takes to get it right! It was our first piece without any vocals at all. So each section had to stand up with a theme and musical structure of its own."[1]

"La Villa Strangiato" translates roughly to "Weird City".
Then...
Now...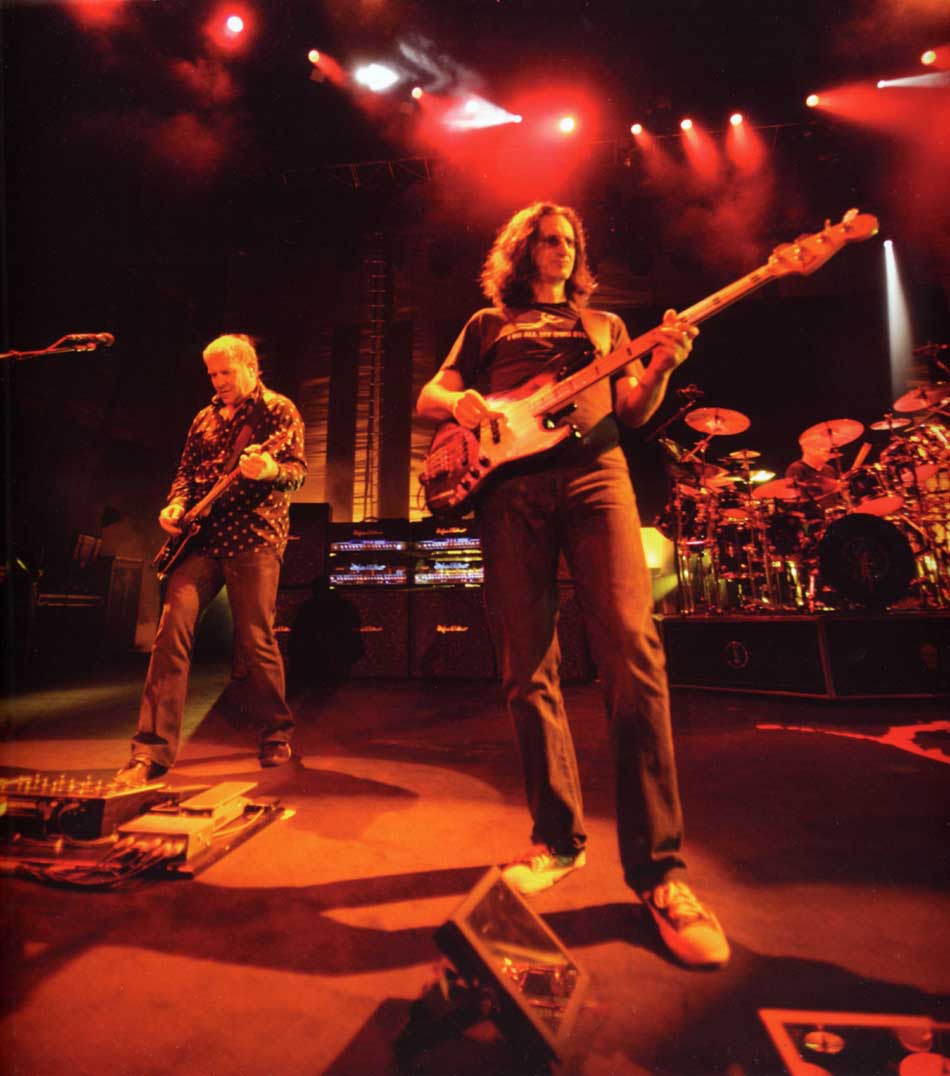 I began listening to Rush in c. 1978, and bought this album with those of several other bands through my membership in the RCA Record Club, probably in '79. Most of my friends and I were in full embrace of the tail-end of the once thriving prog-rock scene--Pink Floyd, Emerson, Lake and Palmer, Yes, and Rush all were our mainstays at the time. Several acquaintances formed a garage band around that specialized in an instrumental version of the "2112 Suite" from the 1976
2112
. Rush was also beginning to get some limited airplay, as their sound was starting to move away from 20 minute-long prog-rock sagas to shorter and more accessible tunes that incorporated more synthesizers, though we preferred their longer epic tunes.
In 1980 Rush began a world tour in support of
Moving Pictures
, and came to Providence on May 22, 1981. We had great seats on floor, 10 rows from the stage. Rush played mostly from their 70's prog-rock catalog, including "La Villa," and a smattering of the more synth-based tunes toward which the band was evolving towards at the time. I recall hearing Tom Sawyer for the first time at that concert, which had yet to be released as a single on the radio (and then played
ad nauseum
for the next 10 years...). I still have my Moving Pictures tour book. At some point I may put it up on eBay, but for now it's still in a box downstairs with some other concert memorabilia. I had a tour shirt too, but tossed that in the salvation army bin about 15 years ago. That would probably fetch about $100 on eBay now if I still had it...
I began playing Rush for my own kids while driving them to summer camp back in July and August, as they like songs that "tell a story." They enjoyed the 2112 suite, and especially Cygnus X-1, the story of a space traveler who journeys through a black hole. I threw "La Villa" on the CD as well, and explained to them that it tells a story too, though without words.
This is one of my all-time favorite Rush songs, and as it is an intrumental I figured this would be a good one to post here, as Geddy Lee's vocals are not everyone's cup of tea. (Also, it's just short enough to clock in at under 10 mb, the limit for a free box.com account
) My favorite part of the entire song comes in at 6:09, at the transition from "Monsters" to "The Ghost of the Aragon." Geddy Lee's bass solo right there is an instant-on balls-to-the-wall blast of pure Pastorius equaling in about 5 seconds, all the technical virtuosity Alex Lifeson exhibited in the previous 5 minutes. Few other electric rock bass solo's have ever come close to equaling that one, imho.
Finally, here is a live video of the song; the first 30 seconds before the performance is a half-assed interview, explained in the text below from the "Rush Is A Band" blog:
"This is from a June 4, 1979 show at the PinkPop festival in Geleen, Holand; the last performance of the Hemispheres European tour. Alex Lifeson hurt his finger because he had a very wild night with his wife, his finger came between the mattress and the bed. This is according to Tjerk Lammers, he was their press manager from WEA record company at that time."
[YOUTUBE]http://www.youtube.com/watch?v=78D00dYOBrM[/YOUTUBE]
Views
27709
Comments
1

Comments
Posted 05-24-2008 at 07:52 PM by

ceptimus